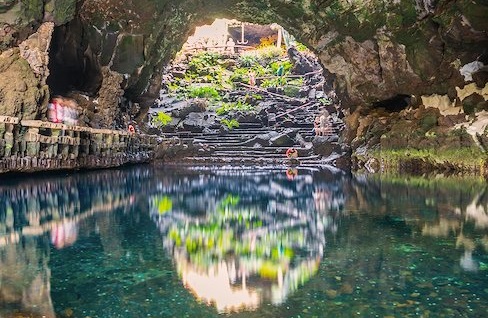 24 sty

Lanzarote
One Fabulous Day in Lanzarote
I love volcanoes, and I go everywhere, where there is volcanic activity or landscape.
In Lanzarote, there was a huge volcanic activity in the 18th century that left volcanic soil all over the island. Therefore, it was awarded by UNESCO and given the status of UNESCO World Biosphere. How can you not want to check out a place that some compare to the surface of the moon for its rocky surface?
The Beauty of Timanfaya and Montañas del Fuego
You can actually see it from closer going to National Park to explore the beauty of Timanfaya National Park and Montañas del Fuego. Timanfaya National Park has black and red soil that gives the impression like it is from another world. This Natural Park consists of more than 5000 hectares peppered with volcanoes. The subterranean geological activity remains and you may witness it by pouring water through holes in the ground and the extreme underground temperatures will transform it into a geyser of steam.
Food Delights
Although Lanzarote's food tends to be Spanish in flavour, it definitely has its own island charm. Popular dishes on the island include Papas Arrugadas (wrinkled potatoes) with mojo sauce, Potajes (chunky vegetable soups with potatoes), Caldo de pescado (fish soup), Sancocho canario (dried and cooked wreckfish, potatoes, sweet potatoes, mojo and gofio) and you'll often find bienmesabe for dessert. Bienmesabe means tastes good to me in Spanish and comprises of a paste made of almonds, honey and sugar often served with ice cream.
Volcanic Bubble Home and Studio of César Manrique
César Manrique House Museum used to be the artist's house. Now, it is a museum dedicated to his life and work. Thanks to César Manrique, Lanzarote has managed to retain a unique authenticity untarnished by big box resorts of which there are only a few on the island. Los Jameos del Agua is my favourite! It is a series of collapsed lava caves re-designed and re-imagined into spaces like a restaurant, a pristine pool, an auditorium, and all reflecting the theme of harmony between nature and humanity. It is a simply magical spot! In the water you can find very rare species, blind albino crabs. You can also see the Cactus Garden (Jardin de Cactus) designed by Manrique with all kinds of fun shapes and sizes of 1,400 species of cacti.
First European Underwater Museum
The Museo Atlantico is the brainchild of Jason deCaires Taylor, the visionary behind Cancun's underwater museum. At the depth of 12 and 15 metres below the waves lies a raft haunted by sculpted refugees, a sunken couple taking a selfie and rows of Lanzarote residents immortalised in the Atlantic. It can be visited both by divers and snorkelers.
"The Raft of Lampedusa" (see picture). Reflecting on the human crisis based on Gericáult's painting. It represents how sailors were abandoned in the shipwreck off the coast of Senegal due to a lack of humanity. The artist pays the tribute to those who have lost their lives in their journey. The shape of the boat is inspired by dinghies that arrive at the island of Lanzarote.
Vocabulary
soil – the ground or earth (gleba)
peppered with – to sprinkle or cover, as if with pepper (pokryte)
wreckfish – type of fish (strzępiel)
almond – the nutlike kernel of the fruit of either of two trees, Prunus dulcis (sweet almond) or P. dulcis amara (bitter almond) , which grow in warm temperate regions (migdał)
untarnished – not destroyed (nieskazitelny)
pristine – unpolluted (sterylny, bez zanieczyszczeń)
brainchild – an idea or invention which is considered to be a particular person's creation (pomysł)
haunt – to visit habitually or appear to frequently as a spirit or ghost (nawiedzać)
immortalised – to bestow unending fame upon; perpetuate (uwieczniony)
dinghy – any small boat designed as a tender or lifeboat, especially a small ship's boat, rowed, sailed, or driven by a motor (łódka)
Tekst, słownik i zdjęcia: Betsi Marczak